Manufacturing Profile
The main thrust of our business is forgings, Open die as well as Closed die ranging from a few grams to almost 4 Metric Ton single piece from diverse materials like: Carbon, Alloy Steel, Stainless Steels and non-ferrous (Aluminium and Copper Alloys).
We specialize in the manufacture of tailor-made components and assemblies for diverse end users like Steel Plants, Machine Tools, Cement Plants, Fertilizer Plants, Petroleum, Petrochemicals, Ship Building, Mining, Material Handling etc
We are a professionally managed company well conversant with the manufacture of precision mechanical items, assemblies and special machines of light, medium and heavy engineering industries.
Heat Treatment
Most of the forged components are heat treated by various processes like stress relieving, normalising, annealing, solution annealing, quenching and tempering, case carburising, nitriding, induction hardening, flame hardening to enhance product quality to suit exacting individual requirements. Wherever required, the test bar is subjected to tensile testing, bend testing, impact testing, microstructure checking after heat treatment.
Hard Chrome Plating
Hard Chrome Plating and Stelliting is done on jobs requiring these applications.
Shrink Fitting
We have successfully carried out large shrink fitting jobs with 100% success rate.
Destructive Testing
Test pieces (integral or separate) are heat treated alongwith the components and are tested for required physical properties like tensile & impact strength.
Non-Destructive Testing
Needless to say that we are well conversant with different methods of non-destructive testing for checking product quality viz. Ultrasonic, Magnaflux, Dye Penetrant, Radiography etc.
Break Load Testing
Break Load Testing is carried out using special fixtures after trial heat treatment of various components within set range. Necessary changes in heat treatment cycles are made to achieve required breaking load strength.
Break load is carried out with three assembled links and tested on universal testing machine.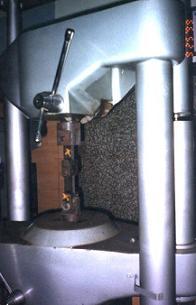 Proof Load Testing
After the final assembly, conveniently assembled lengths of 12 to 15 feet are tested for proof load to one third of the breaking load. Elongation in length after the test is noted, if any. Proof load testing is carried out on 100% of link chains.